Save the date: The ICF World Cup in Prague also in 2021!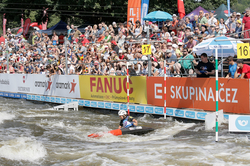 Great news for the Czech sports fans. The ICF Canoe Slalom World Cup will return to Prague – Troja also in 2021. It means that we will have the chance to watch the best athletes of the world not only this year but also in 2020 and 2021. The new date announced is 25 – 27 June 2021.
"We would like to wish you every success in the up-coming organisation and please be assured that the ICF will collaborate and fully support you in your initiatives over the course of the preparation," stated Simon Toulson, ICF Secretary General.
"By working together we can create and produce a major sporting show that will be a celebration of canoeing and will present competitions at the highest level for the best athletes in the world," he added.
It means that except the ICF World Cup final on 5 – 9 September this year, we will also have the honour to organise 4th World Cup in Olympic year 2020 (18 – 20 Sept) and the next World Cup in 2021 (25 – 27 June).