2018 Media Professional Daniel Stach: we need to be more oriented on the public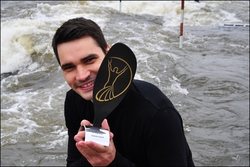 Press release: Film maker and adventurer Olaf Obsommer from Germany, and Czech Daniel Stach tied in the Media Professional of the Year category. It's the first time there's been a tie for any World Paddle Award.
Stach is that unusual creature, a canoeing celebrity. The media professional has his own national TV show but started out as a member of the Czech junior slalom canoeing team in 2004. He was nominated for an award in recognition of his breathtaking commentaries at numerous canoe/kayak World championships. Daniel Stach about winning the award:
"It's a great honour and I'd like to thank especially members of our community, because they have been very supportive not only during the public vote."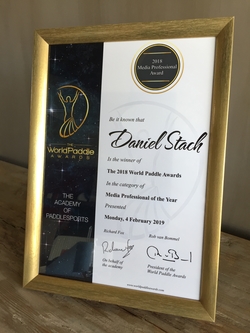 We ask Daniel what he thinks we could do better in our sport.
"We need to be more oriented on the public, meaning specifically: start races at time when people can come to watch the race (12:00 is not that time), make sure that people can watch the most significant races live (not like World Championships Canoe Slalom in Brasil), make sure that rules are understandable and followed (we are having troubles especially in kayak cross), not to kill a category that has a great tradition and is popular amongst the public (C2M), make sure that detailed information about athletes is available online for media and fans (we would have much better TV commentary and as a consequence better viewers experience), create detailed statistics that could be useful to media (not only results, but also statistics concerning each race - e.g. most problematic gates according to penalties etc.)."
In its five years existence it never happened at the World Paddle Awards that there were two winners in the same category. Did you know Olaf Obsommer (the other winner) and what do you think of his work?
"Unfortunately I did not know Olaf's work, but I will definitely catch up! It's amazing that we (paddlers) have such talent in our community! It's amazing to learn about his films and especially about what was happening "behind the scenes", because his trips must be exhausting but at the same time amazing and deeply rewarding."