Bronze Jiri Prskavec - the only medal came among kayakers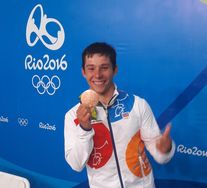 Czech waiting for a medal at the Olympic Games in Rio de Janeiro lasted six days. Eventually, it came with the man from whom the placement in the top three was expected. It was in the K1 men category - Jiri Prskavec who is a reigning world champion was one of the main medal candidates.
In the final race of the Olympic kayakers he showed absolutely fastest ride, but a mistake at the gate thirteen put him down in the overall standings, he slid to third place. "The one touch bothered me. I drove the fastest Olympic ride, and I could have won," described the 23-year-old paddler.
Without touching the thirteenth gate he would have masterfully won, but now the victory celebrated Joseph Clarke from Great Britain, Peter Kauzer of Slovenia took silver. On the other hand, Prskavec leaded just three hundredths of a second before the fourth Aigner of Germany.
"Incredible! I cannot express those feelings, but it is beautiful," he laughed in the finish. He knew that for the medal certainty it needs time to at least 88.70 seconds - while in the semifinals he went nearly two seconds slower.
At Whitewater Canal within Deodoro, Prskavec finally got a penalty on the thirteenth gate, because of which he nearly ended in fourth place. The final time of 88.99 seconds means the third place, but Jakub Grigar from Slovakia, the winner of the semifinal was still on the start. In the last race, the Slovak kayaker has long led, but then he messed the end of the course and dropped the "up" on the fifth.
"I quite believed him, he's a friend of mine and I hoped for a medal for him. On the other hand, I think that he is still young and can wait," smiled Jiri Prskavec, when the bronze medal dangled on his neck. Czech canoe slalom team confirmed the rule that there is always at least one Olympic medal from each Games. Medal in K1 came also in London four years ago. There was Vavrinec Hradilek second.