Germany wins K1W teams, France has gold in C1M teams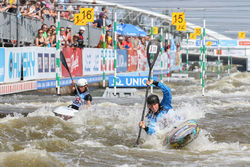 Team events of K1W and C1M closed 2018 European Senior Canoe Slalom Championships in Prague. German kaykers (Ricarda Funk, Jasmin Schornberg and Lisa Fritsche) became European champions in K1W. Silver medal goes to Austria (Corinna Kuhnle, Lisa Leitner, Viktoria Wolffhardt), bronze medal belongs to Czech girls (Kateřina Kudějová, Barbora Valíková, Veronika Vojtová).
"This is just amazing, I've never won two gold medals within one venue, so it's absolutely great. It was a tough day, my arms are really tired now, so it's time to take some rest," said Ricarda Funk. Her teammate Jasmin Schonberg added: "We went very close together and had a really nice line, we did very well in gates. We had a good feeling. It's always amazing to paddle in Prague."
Even bronze Czech girls were happy about their success. "We are very satisfied because we went clean, we paddled without any big mistakes. I needed to wait a little bit for girls but we went as we wanted to, so that was fine. I have to admit that I believed we would end up better, however, we have a medal and it's satisfying enough," said Kateřina Kudějová.
C1M Teams
The best among canoe single men teams were French competitors (Denis Gargaud Chanut, Pierre-Antoine Tillard, Cedric Joly), silver goes to Slovakia (Alexander Slafkovsky, Michal Martikán, Marko Mirgorodsky). Bronze medal stays in the Czech Republic (Vítězslav Gebas, Luháš Rohan, Tomáš Rak).
"Winning team competition is always good, it showed us that we have a good team and that we could catch up with others individually. When I was down the course I saw that we were on the flow. I always enjoy the atmosphere in Prague, it's really good and popular sport here, we feel that we deserve the attention," said member of golden team Denis Gargaud Chanut.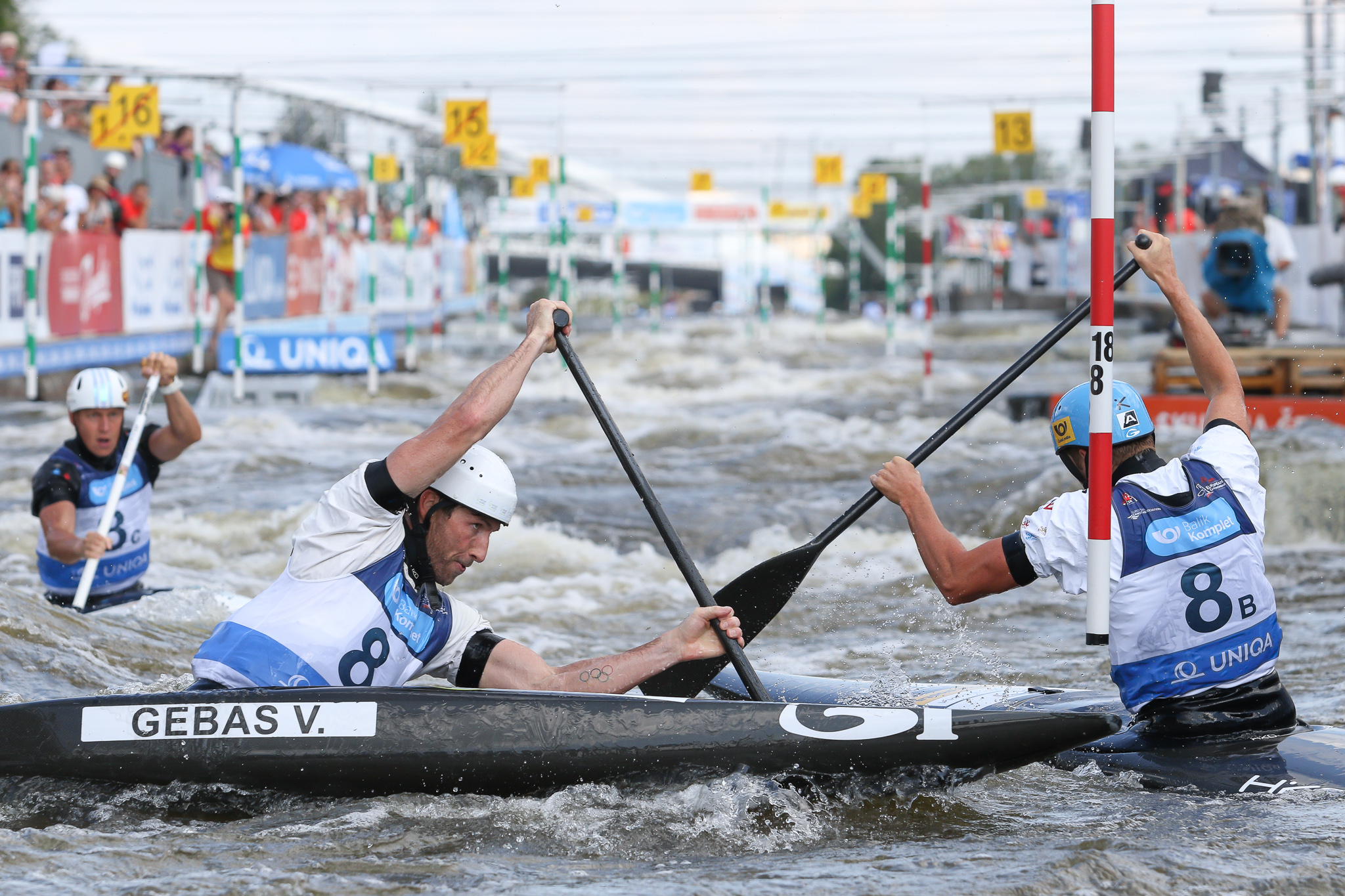 There were 10 sets of medals in all categories at 2018 European Senior Canoe Slalom Championships in Prague. The most successful country is Germany with 3 gold medals. But domestic Czech team gained the highest number of medals – 9 in total including 2 gold.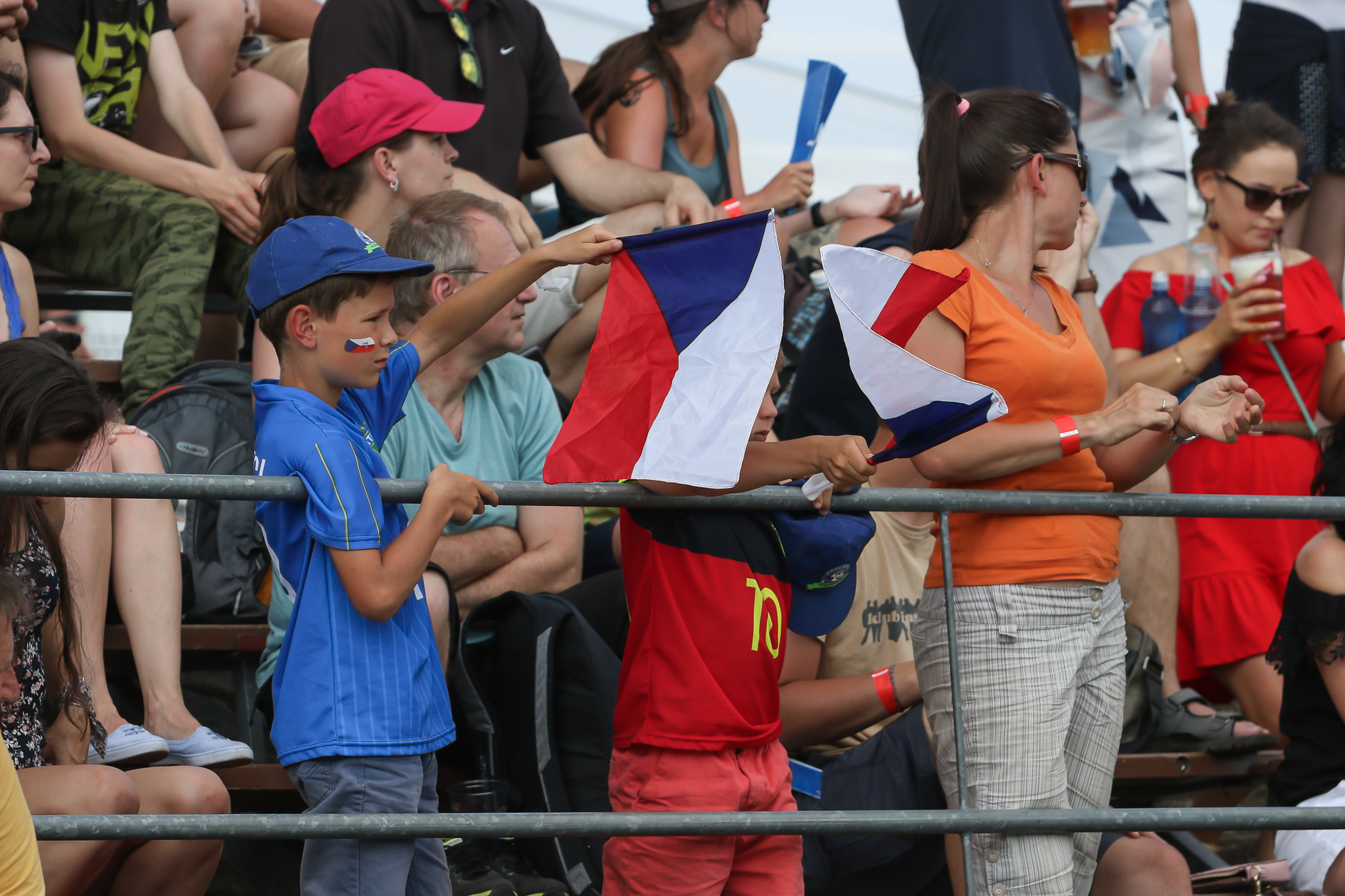 Medal table: Germany 3 – 1 – 1, Czech Republic 2 – 2 – 5, Great Britain 2 – 2 – 1, Austria 1 – 2 – 0, France 1 – 1 – 1, Slovenia 1 – 0 – 1, Poland and Slovakia 0 – 1 – 0, Spain 0 – 0 – 1.
Foto: Jan Homolka