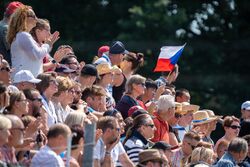 The ticket sale starts on 12 May 2023 at 10:00AM. The tickets for a special price are available via TicketPortal: https://www.ticketportal.cz/event/2023-ICF-Canoe-Slalom-World-Cup
Prices in the sale: three day ticket - 400 CZK/Fri+Sat+Sun, one day ticket on site 200 CZK/day.
The entrance is free on Thursday.
Children up to 140cm and disabled have a free entrance.
Online ticket sale is via Ticketportal.cz.
Link: https://www.ticketportal.cz/event/2023-ICF-Canoe-Slalom-World-Cup
Photo: Jan Homolka