Who will compete at the World Cup? Czech team also with Rohan and Hilgertová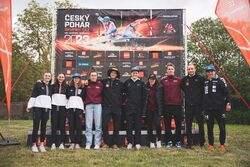 The fourth race of the ČEZ Group Canoe Slalom Czech Cup decided the composition of the A team, which will represent the Czech colors at international events in this year's pre-Olympic season. Olympic kayak champion Jiří Prskavec made it to the national team in canoe slalom both on kayak and canoe. In Troja, which hosted the third and fourth nomination race, he won both his disciplines.
In canoe, which he has been practicing for less than two years, Prskavec surpassed all the specialists ahead of Tokyo Olympic silver medalist Lukáš Rohan. Combined with the second place in the initial nomination race in Trnávka, it secured him the first place in the entire nomination evaluation. He will be joined by Rohan and Václav Chaloupka in the team for top events in C1 category. In the end, the winner of the second race in Trnávka, Martin Kratochvíl, who finished eighth today, did not qualify.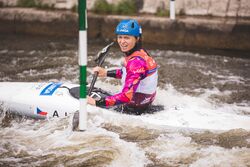 At international events, the canoe and kayak categories are run on different days, so it might not be that difficult for him. Prskavec himself is curious to see how he will do. "In C1, I was able to beat a world champion and an Olympic medalist, I would like to take a chance somewhere and try it," noted Prskavec. The 2021 world champion Chaloupka had nothing but words of admiration for him. "In my eyes, it just confirmed that he is the best canoe slalomer I've ever seen. We have a lot to learn from him," he said.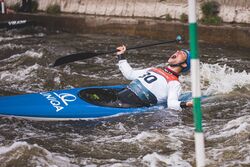 In the team of kayakers, Amálie Hilgertová and Antonie Galušková joined Tereza Fišerová in Czech team. European champion from 2019 Hilgertová is in the national team for the first time since 2020. She secured her place with Sunday's second place. "I still don't believe it a bit. As I haven't been in rep for the last two years, it was a very distant feeling for me to be in the national team. But at the same time, I knew I had what it took. I'm very happy that I managed to sell it ", she praised herself.
The World Cup will start at the beginning of June in Augsburg.
Czech Team 2023:
C1 Men: Jiří Prskavec, Václav Chaloupka, Lukáš Rohan
C1 Women: Tereza Fišerová, Gabriela Satková, Tereza Kneblová
K1 Men: Vít Přindiš, Jiří Prskavec, Jakub Krejčí
K1 Women: Tereza Fišerová, Amálie Hilgertová, Antonie Galušková