Woods performed stunning run and won the semifinal. Fox was second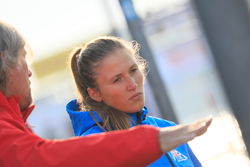 The leader of the semifinal became canoeist Kimberley Woods. Even with two touches she performed incredibly fast run. Second finished Jessica Fox who won yesterday´s K1 final. Third was the bronze medalist from World Championships U23 Ana Satila.
'I knew I have to be smooth, calm and to stay on my line. Being in the lead with two touches is pretty good,' said Woods after her performance.
Her goal for the World Cup final, which starts at noon, will be to win. 'It is always to win. I do not come for being second or third. I am just going to go out there, give it my all, do my best and hopefully it will be enough for a gold medal.'
Fox will definitely want to thwart her winning plan. Australian athlete was with the same amount of penalties slower only by 0.23 s. Moreover, in yesterday's final she put on a stunning kayaking show and proved how smoothly she is capable to go through the gates.
Brazilian representative, who finished second at yesterday's kayakist competition, will mainly try to keep focus. 'It is very tricky to recover after the final. The course is very hard. I need to keep focus. I am going to learn from my mistakes and enjoy my last run in final,' said Satila.
Photo: Martin Hladík