De Gennaro became a fastest kayaker of the semifinal. Czech trio is in the final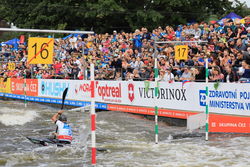 He thought he touched a gate on the top of the course. He thought he had to speed up. In the end, there were no penalties and he performed the fastest run of the semifinal. Italian kayaker Giovanni de Gennaro defeated Czech athlete Jiří Prskavec by 0.03 s. Third finished Boris Neveu from France.
'It was a very good run. In the final I will keep an eye on Czech kayakers and will fight for the medals,' said Gennaro. A great show put on a current leader of World Cup series and a local competitor Prskavec. 'The first part of the course was great. So I will concentrate in the final on the second part. I will try to make it faster and stay on a direct line toward the finish line,' said former World Champion.
A loud crowd of the spectators drove forward to the final also other two Czech athletes – Vít Přindiš and Vavřinec Hradilek. 'My semifinal performance belongs to the spectators who were great. I definitely have a strenght for improvements before the final,' said Přindiš.