Kayaker Prskavec defended the victory. Fox got her first double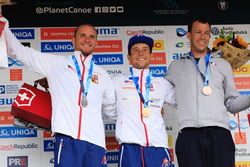 'I would bet the gold medal will stay home,' said current European Champion Vít Přindiš while smiling at his team mate Jiří Prskavec before the World Cup series final. He was not wrong! Straight line, short turnes, no touches – that was a flawless run of Prskavec. Czech kayaker won a final and ruled overall World Cup series. Right behind the finish line he put his hands up on the head, created a shape of half rounds as monkeys do and celebrated.

'Last two years I could not manage to win any of the imporant competitions. I always finished second or third. I am thrilled I got rid of the bad luck at my homeland,' said Prskavec.
At the same moment another Czech representative kept smiling. Přindiš knew he just won a medal. He was currently second and the only man who could take away his silver was Giovanni de Gennaro. However, four touches and eight seconds of penalties meant 7th place for Italian kayaker.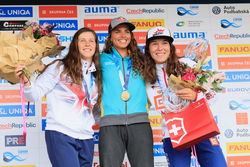 'I am one houndred percent satisfied. I put everything I could into my final run and honestly, I was insanely exhausted at the finish line. The crowd of spectators boosted in me a hidden energy and I am glad it all ended with a silver medal, said Přindiš. Third finished French kayaker Boris Neveu.
Fox became a queen of the World Cup
The queen of the weekend, the queen of the World Cup series. Fenomenal Australian athlete Jessica Fox got in Prague 'double double'. Yesterday, she won the final and overall World Cup series of K1. Today, she repeated the same at C1 competition. She defeated British representative Kimblerley Woods by 0.04 s. Third finished local competitor Tereza Fišerová.
'It has been a perfect weekend in Prague. In the past I have done well in K1 or well in C1 but not in both, so it has been really special to pull it together,' said Fox.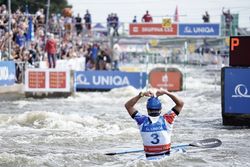 'I absolutey loved the final, I heard the crowd before I even pulled out of the start blocks. It was such an amazing feeling. I gave it my all, I battled from start to finish. It is my birthday today, so it is a great present,' said Woods.
Last two World Cups Fišerová won two medals, this one is a third in a row. However, for a moment it seemed she is not going to make it. At the last upstream she struggled a bit and got two seconds penalties. 'I am in a great shape and I am very happy how I solved the situation at the penultimate gate. I calmed down and went for a bronze.'