Vojtova and Hengst take Extreme Slalom world titles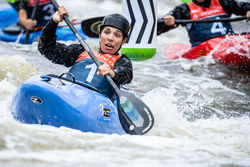 Right after the start, she was fourth. She knew she needed to stay calm and paddled towards her chance to dominate. Once Veronika Vojtová sought it at the top of the course, she used it. The moment was worthy of a gold medal. Czech kayaker became a new World Champion in Extreme Slalom.
She did not have a good starting reaction at all. Being last she separated herself from the rest of the field and picked a different gate to paddle through. This decision was worthy of a title. Water boosted her right into the first place. Since then Vojtová controled her position. Once she was in the finish, she could barely find words to describe her happiness. 'It was a crazy run, I still cannot believe it. I am sorry but I am really speechless.'
Second finished Polina Mukhgaleeva and third was Caroline Trompeter.
Her last extreme slalom was a disappointment
A year ago Vojtová sat in a plastic type of kayak in Rio de Janeiro. She finished at the quaterfinal and did not try any more runs since then. Today it was a totally different competition for her. She went smoothly through the quaterfinal and semifinal. Later, in the final she managed to perform one of the nicest maneuver possible.
'It was physically very difficult, especially the last two runs which happened to be very fast behind each other. I stayed calm. Being fourth at the beginning of the course I knew it will be only about the tactic. I was waiting for a moment and once I got it I used it to win,' said the new World Champion.
Gold for German Hengst
Contrary to Vojtová German athlete Stefan Hengst was winning from the beginning of the final run. At the top of the course, he got passed by Russian Nikita Gubenko. However, the second upstream gate became a destiny for him – with a smooth maneuver he pushed Gubenko away and got back on the first position. Since then he controlled his performance till the end. Second finished Gubenko and third was Pedro Goncalves from Brazil.
'I cannot believe it, I defeated all the local competitors. It was very heavy but incredible run. I enjoyed it very much,' said the new World Champion.