Ricarda Funk is European champion in K1W, British canoeists dominated C1M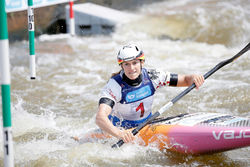 K1W and C1M were fighting for last individual medals on Sunday at 2018 European Senior Canoe Slalom Championships in Prague. The best among the kayakers was Ricarda Funk from Germany. Corinna Kuhnle from Austria, who wanted to defend her title, finally reached silver medal. Bronze medal goes to Fiona Pennie from Great Britain.
K1W, 1st place Ricarda Funk: "I feel so great, I am happy about it. I actually can´t believe this just happened again. The course was really difficult but I managed difficult passages quite well and I had so good up-streams. In Prague there is always a good race. It feels so great when the crowd is cheering for everybody. Final in Prague is unbelievable."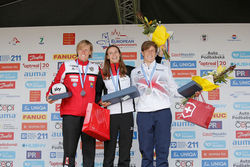 K1W, 2nd place Corrina Kuhnle: I am really happy. Of course I was going for the victory; my goal was defend the title. But in the end I am happy with second place. I´ve never had a medal in Prague before, so now I broke this bane. Racing in Prague is always like this, you can feel the audience really close to you. It´s really noisy and nice. It pushes all the efforts for the best performance."
K1W, 3rd place, Fiona Pennie: "Since qualification I was really happy with my run, keep it steady all the way down the course. I made three clean runs and I am pretty happy to concentrate on a pose. To be better in final? Not to lose a little bit in top section in gates 6 and 7. And in the bottom near the bridge last couple of gates were really close to pots. The atmosphere is always really good in Prague. This is my fourth medal in Prague and I always really enjoy the crowd is so loud. It´s really great, it makes me concentrate hard. Especially between gates 17 and 18 people are really loud, I need to keep on focusing on the gate. And I love it."

C1M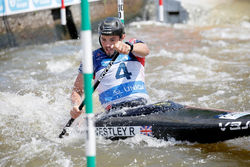 British canoeists beated C1M category. Ryan Westley became European Champion with excellent time 95.48 seconds and no penalty. His teammate Adam Burgess also made a great run and finished second. Bronze medal goes to Lukáš Rak from the Czech Republic.
C1M, 1st place, Ryan Westley: "I didn't expect that. This is the best place to race outside the Olympics. I have been in three finals here. Crowd is so good and right next to the river. The atmosphere is great. They cheer for everybody, it is not common everywhere. Prague is the best place to race in finals."
C1M, 2nd place, Adam Burgess: "I loved that, I always love racing. It's my fourth time I've raced in final in Prague, Czech fans get behind everybody, it's such a good feeling. I'm really happy. There is always something to improve and I know that I need to be stronger at world championships in Rio. However, silver medal is incredible, so I'm really happy."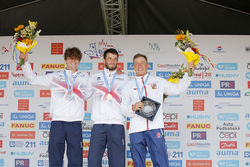 C1M, 3rd place, Tomáš Rak: "I haven't known what would this success mean before but now it means a lot. I was really looking forward to competing, I tried to focus myself and prepare the best I could. The stands pushed me to the finish line, I didn't perceive others, I just knew I wouldn't win."
Foto: Jan Homolka